The hottest design trends for the summer of 2021 are all about celebrating the California climate by merging indoor and outdoor spaces. After a year of confinement, residents of the SF Peninsula are taking advantage of their larger yards to expand their usable living spaces and add value to their luxury properties.


Creating the Perfect Outdoor Entertaining Space
After months stuck inside, get outdoors and host your friends and family right in your own backyard. Setting the scene for the ultimate outdoor bash starts with the age-old components of bringing people together.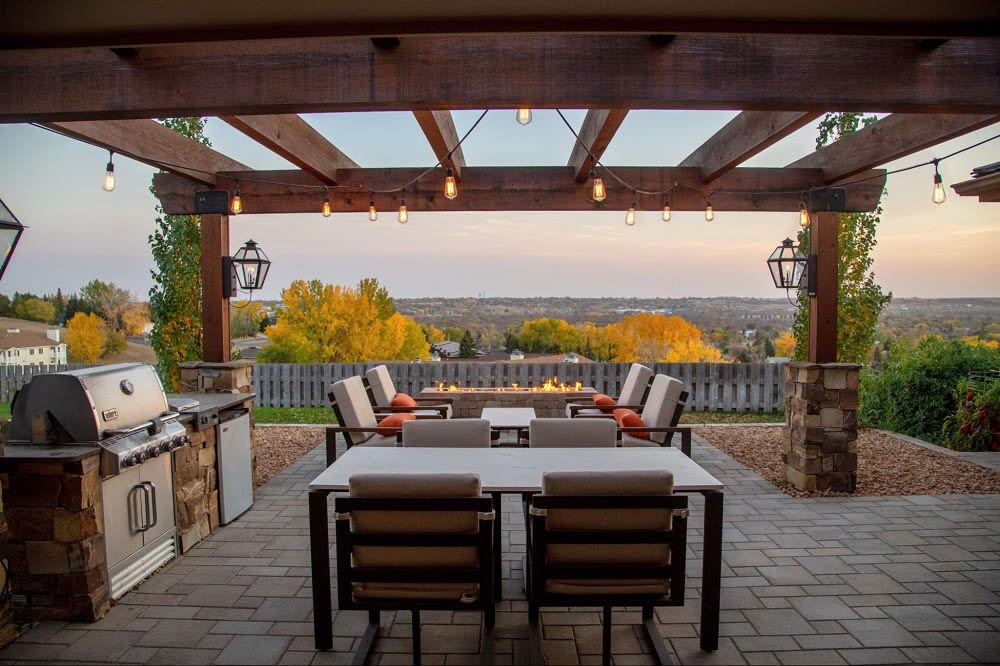 Hearth and Home
Nothing spells companionship and comfort on a mild summer night like the flicker of an open flame. One excellent option for the hearth light of your outdoor home is a double-sided fireplace, which offers a chance for smaller intimate groups within a larger get-together and doubles your fireside seating. Benches around a custom fire pit provide the rustic feel of ancient peoples trading stories in the fading dusk light.
Breaking Bread
If you've been improving your cooking skills over the past year, you don't want to be relegated to an indoor kitchen while your guests amuse themselves outdoors. Show off your stuff and mingle simultaneously by creating a functional outdoor kitchen complete with summer staples like a grill or pizza oven, a modestly sized refrigerator for cool drinks, and plenty of counter space for preparing a fresh summer salad. Feel free to make your outdoor cooking space a mini version of your indoor kitchen, with a full oven and cooktop as well as a freezer for summer-friendly ice cream sundaes.
Take a Seat
An entirely outdoor party requires a setting for each stage of the event, from pre-dinner appetizers to the sit-down meal to after-dinner drinks. Be sure your outdoor space offers enough seating to serve each of these separate functions; you should also select cohesive furniture to perform double duty, whether they're pulled up to the table during dinner or moved to the fireside for a late evening chat. Ensure your outdoor seating spaces have plenty of shade via an awning, an oversized umbrella, or a pergola planted with native vines.
A Little More Action
If you have little ones in need of some outdoor entertainment or if a little less conversation sounds just right, get your day started with a pool party or some classic backyard games. To reinvigorate your pool parties, stock up on fun accessories like a volleyball net or enough floating chairs and cozies to seat the whole family. If your yard is pool-free but sports a verdant lawn, set yourself up with croquet or a cornhole set to get those competitive juices flowing.
Create a Vacation Destination in Your Own Backyard
Though travel is still somewhat limited, you can recreate your favorite vacation destination a lot closer to home by implementing outdoor designs inspired by locales near and far.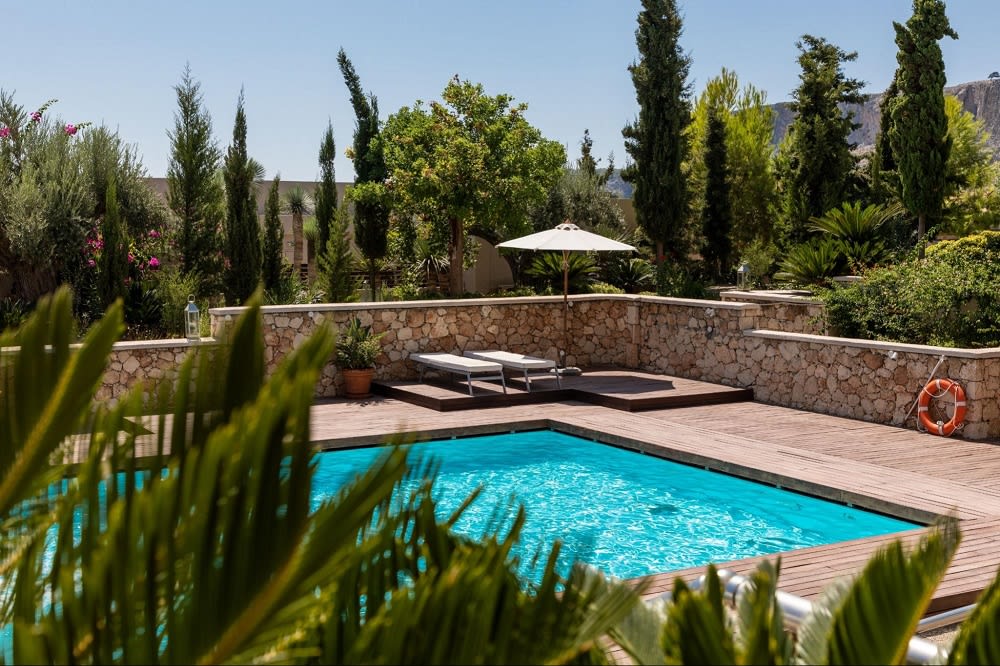 Tropical Resort Paradise
If you long to get away from it all to a serene beach somewhere, update your landscaping with tropical plants, build a cabana poolside or add a peaceful waterfall feature to evoke the sumptuous pleasures of an island paradise. Don't forget to add colors and patterns with soft furnishings to add a touch of exotic excitement.
Cozy Mountain Hideaway
Is your favorite fantasy a luxurious cabin in the woods? Select furnishings with natural edged wooden accents, create landscape borders that resemble a patch of alpine wildflowers, or hang a pair of chair hammocks to nail that dreamy boho vibe. Roast some marshmallows over an open flame or tell ghost stories to bring back memories of summers at camp under the open skies.
Mediterranean Summer Holiday
If a European touch is what you're after, create a secret garden-inspired courtyard with a bistro-style table and a pair of chairs for eating gelato or having your morning cappuccino. Bring in old-world elegance with colorful mosaics on permanent features or furniture. Or spice up a few Mediterranean-influenced dishes with a backyard herb garden in raised planters.
Soothing Meditation Retreat
If you're craving some peaceful introspection or a yoga-inspired retreat after a long day, make yourself a backyard zen garden or a gazebo to create a meditation haven. A bubbling water feature, plenty of cushions, and space dividers like tapestries or a trellis can all help create a space free from the day-to-day concerns of modern life.
Create an Indoor Oasis With Nature-Inspired Décor
Designs that bring the beauty of nature indoors have always been popular, especially in naturally beautiful places such as the San Francisco Peninsula. This trend has taken on a new life in 2021 as people find comfort in nature's limitless possibilities and peaceful serenity.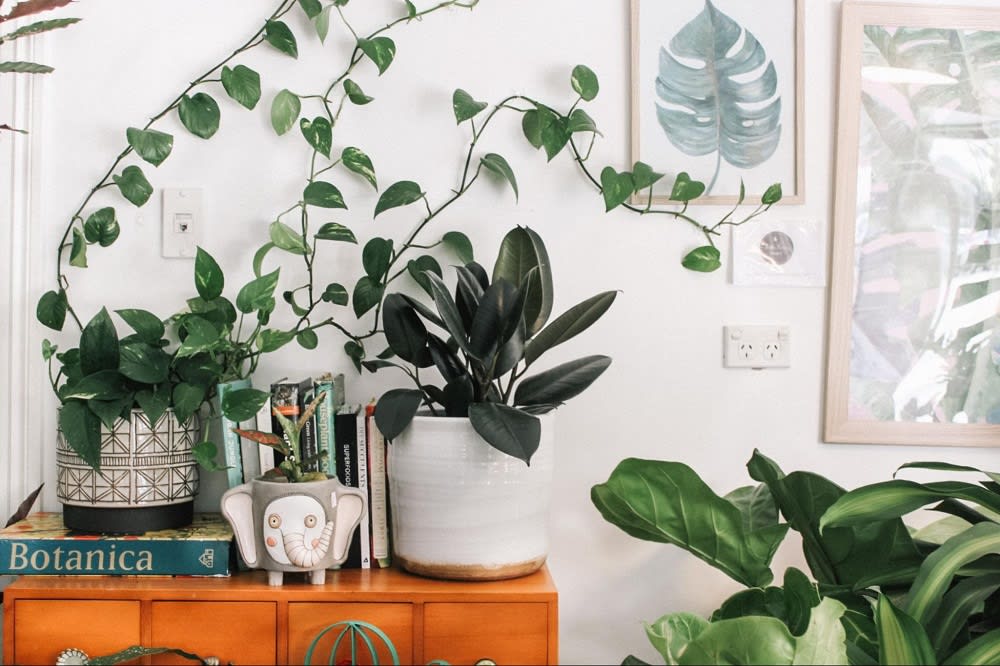 Nature's Color Palette
Looking for a way to spruce up your interiors and produce a substantial return on your investment without weeks of renovation? Go with a stylish new color palette inspired by nature. A neutral, natural color choice provides a serene backdrop for your existing furnishings and allows for pops of color to shine.
A Soft Touch
Color isn't the only way to evoke the feel and look of nature in your home décor. Use the muted neutral palettes and minimalist designs popular today to bring in natural textures and provide a feast for the senses. Variation in texture not only feels good but looks good, too.
Rustic and Refined
Whether or not your home has a rustic style already, you can add elements such as reclaimed wood to bring the nostalgia-laden design known as cottagecore to your world. Florals, vintage prints, and motifs coupled with checks and stripes in muted natural colors complete the look. The style can be made more luxurious by pairing it with metallic elements or adding sparkle.
Beautiful Vistas
Another way to transport yourself to faraway places is to add a bold, nature-inspired mural. Expanding your boundaries through a natural landscape of a natural setting from far away can expand your boundaries of perception and make you feel free as a bird.
Are You In San Francisco?
Are you searching for more tips and trends related to the San Francisco real estate market? Feel free to read our other blog posts. If you're hoping to make the move to San Francisco, contact us today. We would love to assist you in finding Redwood City homes for sale, San Carlos homes for sale, houses for sale in Millbrae, San Mateo real estate, and other properties in the SF mid-peninsula area.