The past two years have been a whirlwind of ups and downs, and our homes have become even more important to us. During periodic quarantines, homeowners have had more time to think about aspects of their homes. Many have found that their living spaces need a bit of touching up and have turned to new designs and updates.


With functionality becoming the principal focus element, entire homes have changed to accommodate the time inside. As our homes continue to be a haven for our mental and physical wellbeing, it is a terrific time to reevaluate your home and consider what changes can be made to make life inside more enjoyable.


The new normal is different for everyone, and your home needs to reflect your needs and your family's needs. Whether you choose a room, a floor, or a wing of your home to redesign, think about where you are today, not a year ago. Consider your design style when touring Burlingame homes for sale.
Choose the right colors
The 2022 paint color trends are gravitating toward earthy, nature-inspired colors. Many designers choose browns and greens to update homes and bring a cozy feeling to the space. While trends are fun to follow, you should strive to reflect your individuality in your design style. Many of us no longer want to feel cozy and comfortable in our homes. We want to be energized and productive. We want to feel light and airy and be able to shake off the uneasiness of the past two years. Whether you're looking for cozy, energized, or something in the middle, changing up the colors in your Burlingame homes for sale could go a long way.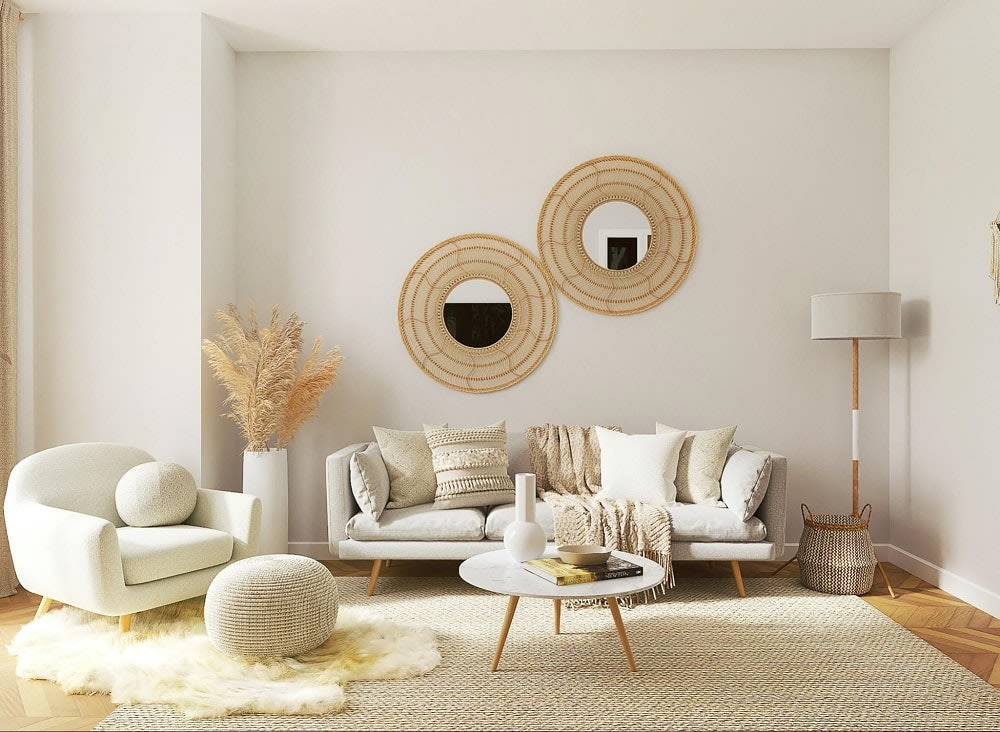 Nature-inspired colors are a fantastic way to create whichever mood you are feeling. Visiting a local farmers' market full of vibrant colors often generates a feeling of creativity. Head outdoors for a hike in a nearby park, and search for a color that inspires you. Take a photo of the color your like, and take it to your nearest paint store. Pick up some supplies, set up a great playlist, and create a space full of colors that make you feel whichever emotion you need to feel right now. Remember, paint can be easily changed in your Burlingame real estate, so if the result is not what you imagined, just change it again.
Furniture that makes you smile
Antique stores,
upscale consignment shops
, and small furniture boutiques are full of fun furniture that can offer style and individuality to your home. Add in access to excellent upholstery shops, and the ability to create your own unique style is endless. If you are in love with the style and comfort of your current sofa but hate the color, change it. There are inexpensive slipcover options that add immediate style to the piece, or an experienced upholster can provide you with fantastic fabrics to choose from. Choose something that makes you smile and creates an emotional pull within you. If the style of the sofa is not working for you, visit a unique store and find something that fits. If you decide it is time for a new sofa, donate your old one to your favorite charity, or give it to a friend. The landfills are overflowing with furniture that could be useful to someone else.
Shopping for new furniture can be a daunting task. Searching store after store for the perfect piece or spending hours scrolling through one online shop after another is exhausting and time-consuming. Sometimes, you must let things happen organically. Updating furniture in your home does not have to happen all at once. If you prefer to choose all furniture pieces simultaneously, then one big shopping spree would be best for you. You may be better suited to shop for the right individual pieces at a slower pace. You may be spending a Saturday, or a Tuesday, walking around downtown Burlingame and spot an awesome side table that you want. Another day, you may find the chair to place with it. The process of designing can be whatever you want it to be!
Accents to address your moods
Thinking of your design style in your Burlingame real estate as a type of music could help with determining which home accents provide the most benefit to you and your family. Some days, heavy metal seems to fit your mood, others where classical is the better fit. We can change the music we listen to easily, but the same is not always true for accents in our homes. When purchasing accents such as pillows, throws, drapes, rugs, or other decor, consider how the accent can address various moods within the home. If you are having a classical music kind of day, having a room with
Scandinavian-style decor
may be the best place to hang out for the evening. Creating a space offering a more
industrial feel
would accommodate the days when heavy metal is your jam — and don't forget to leave plenty of open space to play air guitar. Blend the two design styles into one area to create a Scandinavian Industrial style, and you can use the space for both.
Bring in what you love
Collections are a way of showcasing interesting or endearing items to us. Art, seashells, rocks, old glass bottles, baseball cards, or comic books all represent things people collect. Bring in the things you love to your home for a personalized touch. If you enjoy visiting art galleries and displaying pieces in your home, do that. If seashells that you have collected from walking warm sunny beaches create memories for you, display them in your home. Develop creative ways to decorate with the items you love so that they can generate positive feelings in your home.


The interior design of your Burlingame real estate is a fabulous way to develop your style within your home. Create your personal space that portrays what makes you happiest. Be bold, be creative, and smile along the journey. Have you decided to incorporate your interior design style into a new home in the area? Reach out to trusted local agent
Mary Ann Teixeira
to help you sell your current home and look for a new property in Burlingame!