Credit: Wikipedia (San Francisco)
The start of a new year breeds a desire to have new experiences and become an enhanced version of ourselves. What better way to kickstart 2022 than by making memories in style? San Francisco is full of rich architecture and history that longs to be explored. This eclectic California city is also a hip place to be due to its fun, creative lifestyle.
If you are searching for an adventurous excursion, cruise the calm Bay on a catamaran or take in the dazzling city sights by helicopter. For those who desire a cultural experience, witness a stellar production at the San Francisco Symphony or admire the majestic Palace of Fine Arts.
You may be a thrill seeker or art enthusiast, or just want to view the iconic sites in an unparalleled way. Regardless of what is calling to you in 2022, here are six ways to start your new year on a high note in lovely San Francisco.
Cruise the San Francisco Bay on a luxurious catamaran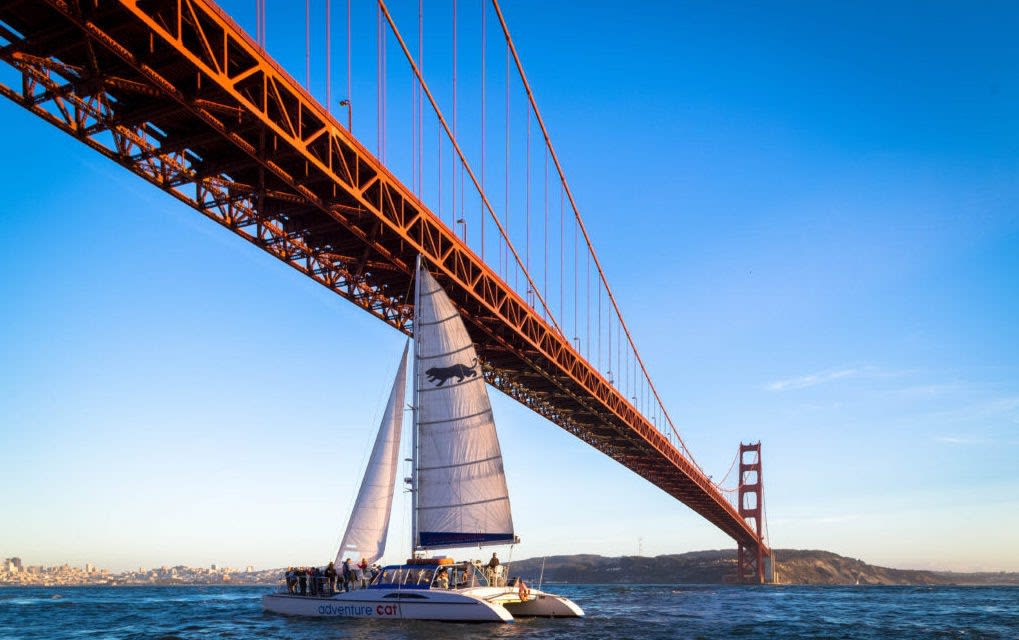 Credit: Adventure Cat Sailing Charters
Cruise along the San Francisco Bay in a private catamaran. Tours provide remarkable views of the city's most popular attractions such as the Golden Gate Bridge, San Francisco skyline, and Alcatraz Island. The catamarans are spacious and luxurious, offering a Bay experience unlike any other. Take in panoramic views of the Golden City from a deck canvas trampoline or protected indoor cabin.
There are several catamaran charters available in San Francisco, with Adventure Cat Sailing Charters being among one of the best. If you wish to sail during the day, keep your eye out for playful marine wildlife like dolphins, sea lions, and whales. Sunset cruises are another great choice, offering picturesque sights of the lit-up city skyline as you glide along the peaceful water as the sun goes down. A personal catamaran cruise is a perfect way to celebrate a special occasion too. Toast to your birthday or anniversary in fashion on a custom Bay route complete with catered food and drinks.
Bask in the beauty of San Francisco right from your private catamaran on the beautiful water.
Enjoy a performance at the sophisticated San Francisco Symphony
Credit: Tripadvisor (San Francisco Symphony)
Catch a wonderful production at the distinguished San Francisco Symphony. Housed in the acclaimed Davies Symphony Hall, this nonprofit organization holds live concerts, blockbuster movie showings, and orchestras. The Hall hosts talented musicians from all around the world who showcase their talents right in the heart of San Francisco.
Noteworthy events in 2022 include performances from Conductor Laureate Herbert Blomstedt featuring symphonies from Carl Nielsen and Ludwig van Beethoven, as well as splendid concertos by Perry So and Wu Man. The well-liked James Bond film "Skyfall" will also be screened and accompanied by a live ensemble. Snag some of the best seats in the house by reserving a private orchestra box, terrace seat, or loge seat before they sell out.
The San Francisco Symphony is ideal for a sophisticated night out in the city.
Sip on exquisite afternoon tea at The Palace Hotel

Credit: Marriott
The Palace Hotel is a San Francisco landmark fit for a king or queen. A Luxury Collection Hotel by Marriott, this quintessential spot is bursting with historical beauty. The Palace was established in 1875, making it both the first and largest luxury hotel in San Francisco. The timeless hotel touts classic architecture mixed with modern decor.
For one of the most elegant experiences in the city, attend Signature Tea at the Palace Hotel. This long-standing tradition is held every Saturday in the hotel's renowned Garden Court. The venue has vintage glass ceilings that are adorned with chic chandeliers. Surrounding the dining tables are grand marble columns and luscious greenery. The menu features caffeinated and herbal teas served in dainty pots and cups. An assortment of bite-size sandwiches and pastries are brought out on stylish platters as well. The presentation truly is as outstanding as the world-class service.
You will feel like royalty as you sip on an afternoon tea at The Palace Hotel.
Delve into the magnificent San Francisco Museum of Modern Art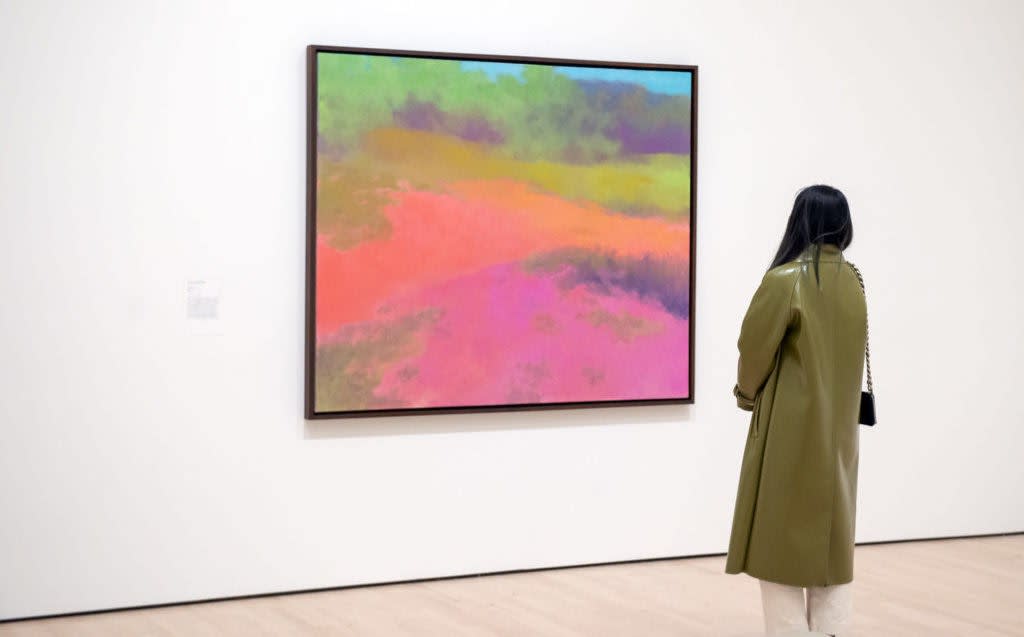 Credit: San Francisco Museum of Modern Art
Visit the San Francisco Museum of Modern Art and discover artistic pieces from both near and far. The museum is one of the largest in the United States showcasing contemporary and modern art from all around the globe.
Internationally known, the Museum is over 45,000 square feet and was the first in California to focus entirely on 20th-century art. The Museum displays special exhibition galleries, sculpture centers, photography exhibits, and contemporary and modern pieces. Immersive works are a popular attraction, allowing visitors to engage in the artistic experience. Rafael Lozano-Hemmer's "Unstable Presence" exhibit will be on display for the first few months of the new year and is not to be missed. The Museum also has an outdoor area that includes a "Living Wall" which is 30 feet tall and has more than 19,000 different plant species. The "Living Wall" is the largest in the United States and is an amazingly serene backdrop.
Delve into the wonders of the San Francisco Museum of Modern Art to uncover the city's artistic side.
Admire the glamorous Palace of Fine Arts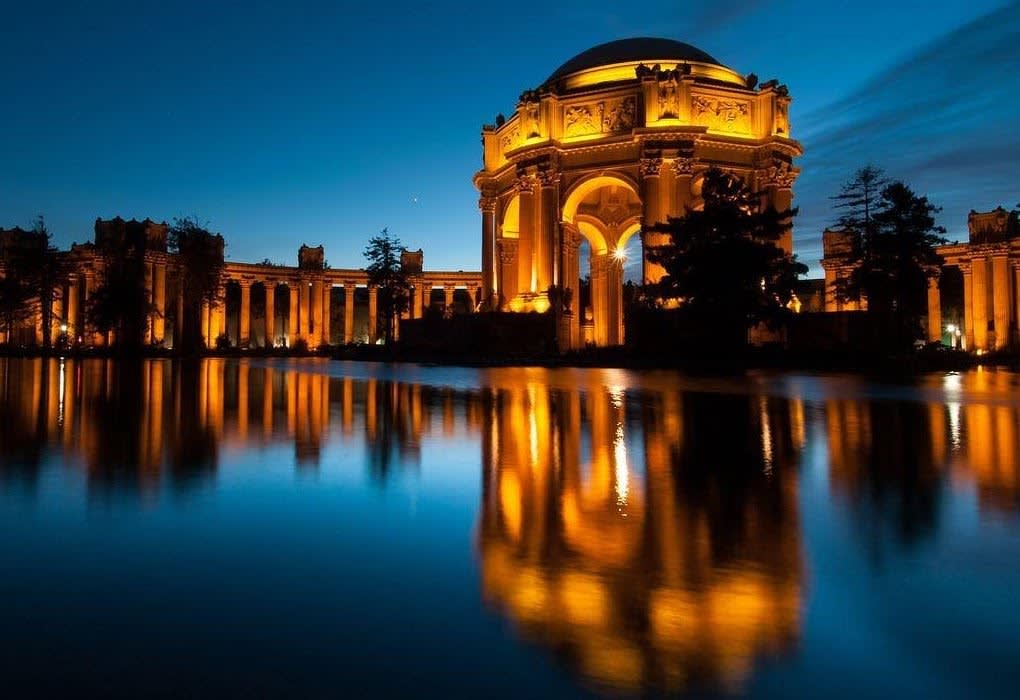 Credit: Tripadvisor (Palace of Fine Arts)
The Palace of Fine Arts is a majestic gem in San Francisco. Originally built in 1915 for the Panama-Pacific Exhibition, this monument is a glamorous site to lay eyes on. The Palace features a colossal dome structure set in a tranquil park. Throughout the premises, you will see impressive Roman architecture that towers above a small lagoon.
The Palace of Fine Arts is open most days for the public to admire. Stroll through the iconic Palace grounds or stop in The Cafe for a healthy bite to eat. The Palace is home to a Fine Arts Theatre in which you can catch shows by comedians and musicians alike. As it is quite ceremonious, The Palace is often the premier venue for corporate events, galas, trade shows, and weddings too.
Spend the day at San Francisco's Palace of Fine Arts and prepare to be in awe.
Tour the legendary Golden City by helicopter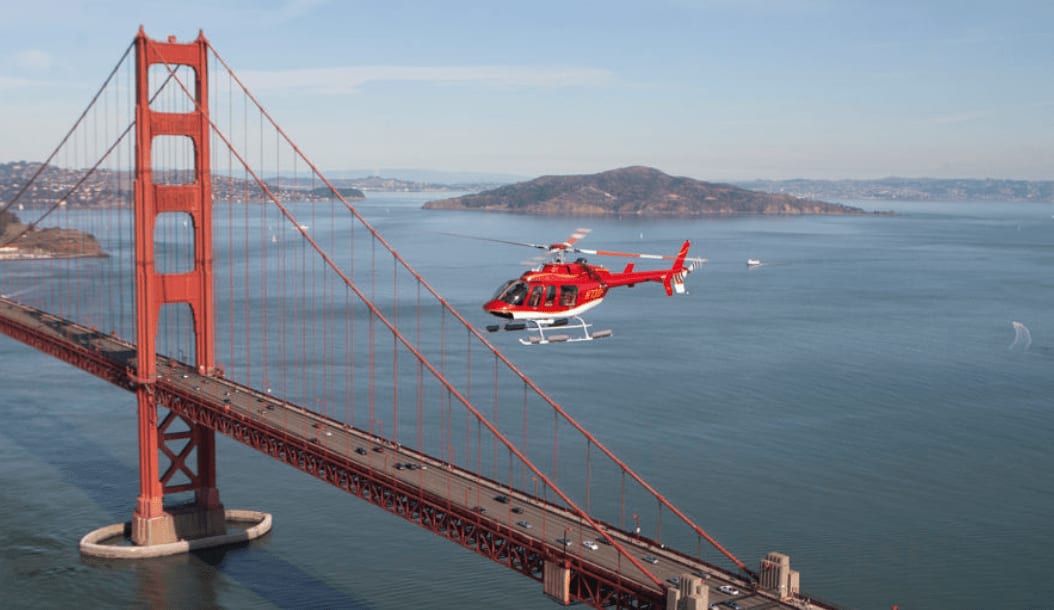 Credit: San Francisco Helicopters
Get an aerial view of the Golden City by taking a helicopter tour or charter. Fly over Alcatraz Island, Fisherman's Wharf, and the Golden Gate Bridge. Have a trained pilot provide you a bird's-eye view of San Francisco in the safest helicopters throughout the aviation industry. These aircraft are extremely quiet and comfortable as well, providing a smooth overall flying experience.
There are a handful of guided helicopter tours in the city with San Francisco Helicopters being a staple. A variety of custom tours and charters are available both day and night, with exclusive itineraries for personal occasions and corporate outings. San Francisco Helicopters even offers tour packages in which you can stop for a four-course dinner on a yacht or a local vineyard in Wine Country. The company's charters allow you to travel luxuriously to personal venues in the area as well. Arrive fashionably to your weekend golf outing, business trip, or spa getaway in a private helicopter.
Take a scenic helicopter tour or charter and see San Francisco's famed landmarks from a one-of-a-kind view.
San Francisco Real Estate
Kickstart your new year by contacting Mary Ann Teixeira to find the San Francisco property you are dreaming of in 2022. A third-generation California landowner herself, Mary has been serving the mid-Peninsula area for over 15 years with her dependability and directness. Whether you're searching for Belmont mansions, homes for sale in Redwood City, or Burlingame estates, trust in none other than real estate agent Mary Ann Teixeira.