The kitchen is an important centerpiece to any home. It's where you gather with family and friends, cook, eat, and (sometimes) even work. It experiences a lot of wear-and-tear, so it needs to be functional. But functional doesn't have to mean lacking style or luxe. There are so many ways—both big and small to upgrade this all-important room. We're going to take you through a few ways to begin the process of building your dream kitchen.
Quartz Countertops
Marble is still the popular girl at school, but quartz is rising in the ranks. Quartz is a very durable material. It's easy to clean and won't be damaged by water and detergents. It's also strong enough to withstand messy baking sessions with kids or complicated new recipes. Once you go quartz, you won't want to go back!
Woven Light Fixtures
Woven light fixtures are having a moment. They're a fun way to warm up any kitchen design and are good for the environment. Try ones made of bamboo or rattan to add a friendly, relaxed vibe to your space.
Wood
Guess what pairs well with woven light fixtures? Wood! Reclaiming wood and using it for cabinets, islands, or even tables is a great way to stay on the naturals/neutrals trend. Wood can be rustic or modern, depending on the cabinetry and accenting. Look for shades that complement the rest of your kitchen, and embrace this eco-friendly trend.
Faucet
It may seem like a small change, but upgrading your facet can make a huge visual difference. Experiment with metals, shapes, and sizes. A copper faucet looks great in a rustic kitchen, while a square metallic faucet screams modern. Think of your faucet as an accessory. It can make a great kitchen look even better.
Backsplash
The area behind your stove and sink is screaming for a new and improved backsplash. Listen to it! Large backsplashes are a great alternative to having many tiles. One solid backsplash behind the sink catches the eye without looking too busy or uncoordinated. White subway tile has been a popular choice in recent years. Marble patterns add a sleek, modern look. If you're a fan of tiles, don't hesitate to get funky with them. Choose bright colors and patterns that compliment your wall color. Blue and white tiles have a classic, Mediterranean feel, while off-white subway tiles add a rustic feel to a neutral kitchen.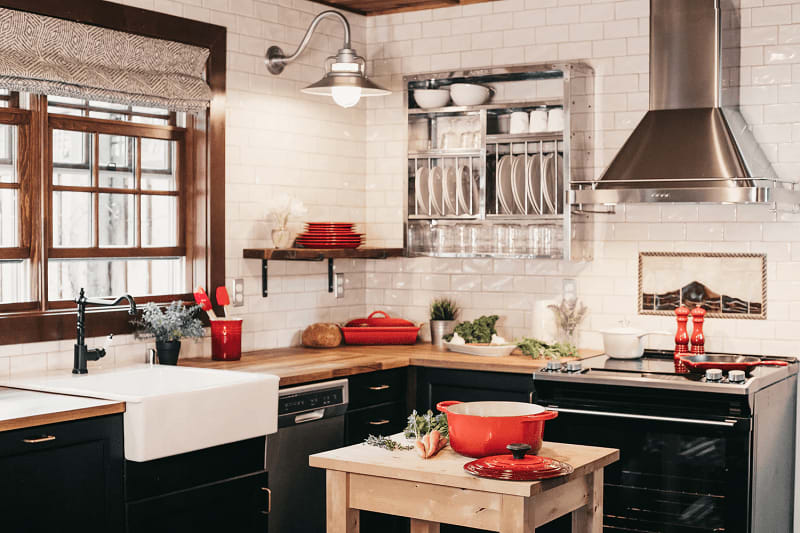 Pops of Color
Adding pops of color to any kitchen automatically makes it look friendlier and more interesting. Let's say your kitchen is primarily beige and neutrals. In that case, how about adding some bright pink barstools? Or a colorful backsplash with matching kitchen appliances? You don't need every color in the rainbow to be in your kitchen—just a few that look interesting and elevate the mood.
Double Islands
Kitchen islands are a luxury in-and-of-themselves. It's so lovely to have a space where people can sit and congregate while cooking—plus, it offers additional counter space for extensive meal preparation! One is excellent, but how about two? If your kitchen is open enough, consider placing two islands next to each other, with space in the middle to sit. Two islands mean double seating, as well as double the countertop area—a great option for people who like throwing big dinner parties but don't want to feel cramped.
Pantry
Large pantries are back! Gone are the days of filling multiple cabinets. One large, sleek pantry contains and conceals everything in your kitchen without taking up excess room. Replace cabinetry with stylish paintings or bookshelves, and fill your pantry with all the food and supplies you don't want visible. It's a chic way to hide the mess!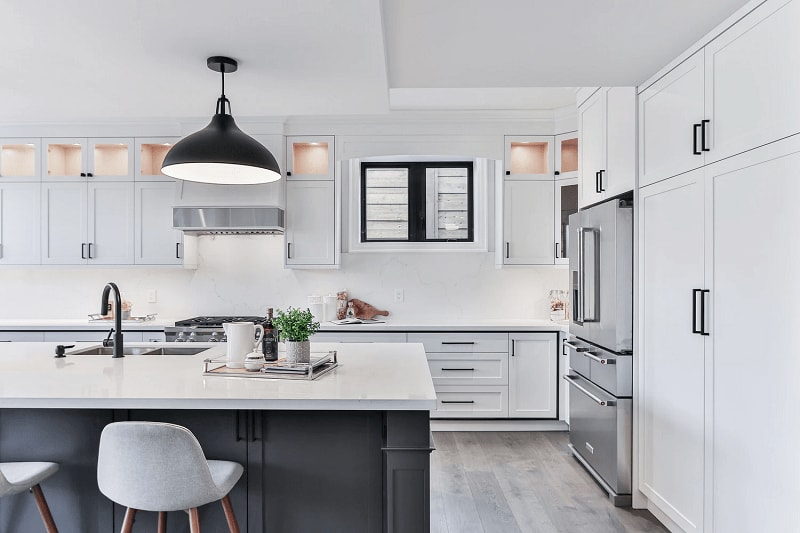 Hidden Appliances
Another way to conceal? Consider investing in hidden appliances. Dishwashers that look like cabinets are sleek and modern ways to make a kitchen look uniform. You'll forget you're doing dishes. Hidden trash bins are another appealing way to hide clutter and streamline your space.
Bold Lighting
Small overhead lights are being replaced by large, dangling overhead options. Chandeliers, brass or glass orbs, and vintage metals are all ways to drive and enhance your design palette. They make for soft, even lighting and also immediately catch the eye. The lights are the earrings of the kitchen, and it's essential to invest in them.
Walnut Cabinets
Yes, neutrals are in. But so are walnut cabinets. They're deep, bold, and immediately suggest luxury. Modern kitchens feature solid walnut cabinets and mixed metals. Is a fully walnut kitchen too severe for you? Consider replacing the storage areas with walnut and adding a white or off-white surface. This contrast will provide a nice visual balance.
Organizer for Pots and Pans
An organized kitchen never goes out of style, but visible organization is having a big moment. Invest in some beautiful pots and pans (copper is always a good choice) and hang a select few above the stove. They'll act as an art piece, and they'll be in an accessible location—no more rifling around for kitchen tools.
Induction Cooktops
These high-tech cooktops are easy to use, clean, and look at. Gone are the days of coiled burners or flaming red electric stovetops. Induction cooktops reduce mess and are easy to use. They sense what temperature your food needs and essentially drive the cooking process. So invest in an induction oven, pour some wine, and let the stovetop do the work.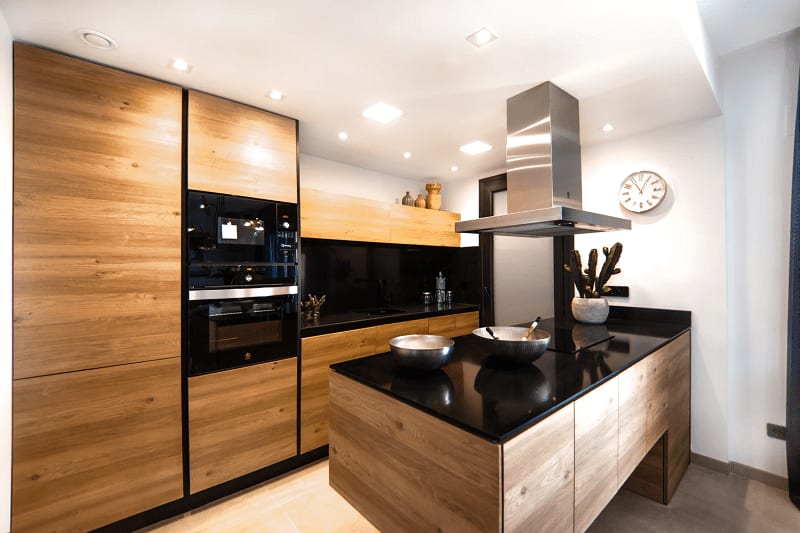 Ventilation Hoods
Yes, even ventilation hoods can make a statement. Replace the usual silver ones with brightly colored tiles and patterns. Black hoods make for a modern look, while colorful subway tiles add charm to a rustic kitchen.
Plate Racks
It's a shame to hide your most beautiful china behind cabinets. Buy a plate rack and display your china proudly. Plate racks are vintage, and they add a lot of personality to a kitchen. They also allow you to stay organized without sacrificing style. Lean them on the counter or mount them to the wall for a nice touch.
Bold Ceilings
Paint and wallpaper aren't just for walls. Coating a ceiling can make an entire room appear larger and more open. Consider a bright green color to compliment silvers and greys. Or, ditch the solids and go for a fun pattern. So long as your ceiling doesn't take away from the kitchen yourself, it's guaranteed to look chic and different.

Interested in exploring San Francisco real estate? Contact Mary Ann Teixeira and her team for more information on how you can turn your dream SF Peninsula home into a reality!